Why VoCoVo is becoming the one piece of tech for shops, restaurants and leisure facilities
The past year has been challenging in the retail, hospitality and leisure spaces. Just when many businesses were making huge improvements to their customer experience, everything stopped.
While we know that more customer interaction is done digitally than ever before, shopping in-store is here to stay. Even during the first week of non-essential retail reopening in the UK, Primark experienced pre-COVID levels of customer football in its stores (BBC).
There are also indications that, despite any COVID-related impact, in-store shopping has a long life ahead of it. According to research by VoCoVo, the outlook is bright:
41% of shoppers prefer to see products in-store before making a purchase.
Over half of customers have not lost confidence in physical retail.
Two thirds of customers don't expect their long-term habits to change.
And for those in the hospitality sector, especially pubs, bars and restaurants, many customers have returned as soon as possible in line with lifted restrictions. However, the operations and procedures which determine their customer experience and journey may have changed permanently.
The recommendations are clear across the board (such as by Delottie and Hospitality Insights) – stay engaged with customers, strengthen digital and technological capabilities and put guests at the centre of the business' strategy.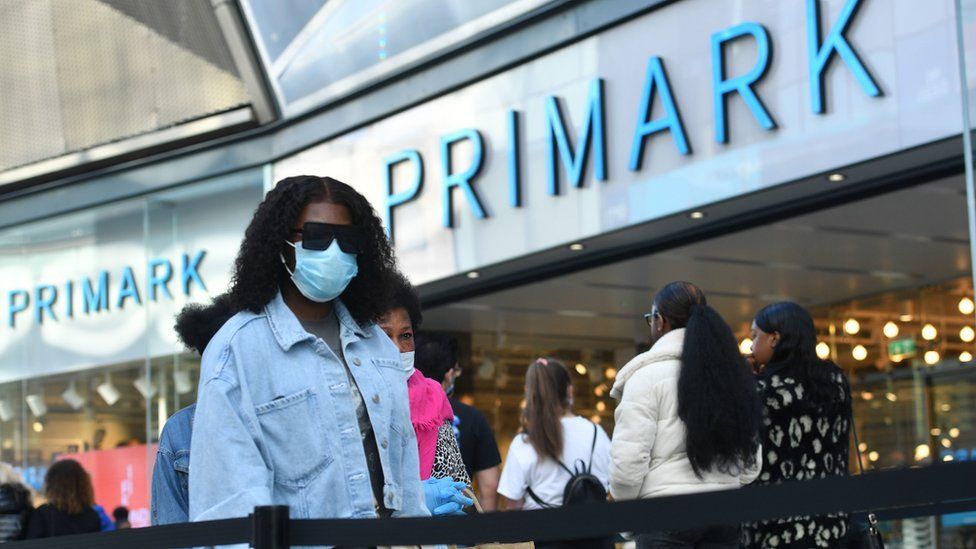 A RETURN TO NORMAL? Primark said the number of customers returning to its stores when lockdown restrictions eased reached pre-pandemic levels. Image: PA Media.
The "safe" customer experience
A common goal for those welcoming customers back to their premises is safety – not only ensuring their environments are as safe as possible but also making customers feel safe when visiting.
COVID-19 has seen businesses introduce unprecedented measures to do with customer safety, including social distancing, hygiene stations and health questionnaires.
While customers expect to have to engage with new temporary norms for now, they will ease as the presence of coronavirus eventually diminishes. But for the foreseeable future, retail, hospitality and leisure bosses will be more focused on the safety of their customers on-site than ever before.
The solution? A tool that staff can use collaboratively to maintain high standards of safety and customer service.
The role of communication in delivering great customer service
We know that communication aids collaboration. We also know that the larger a group of people and distance between them, the harder it is to communicate (and therefore collaborate).
It's no wonder, therefore, that two-way radio technology is so prolific in almost every key market sector. The reason for its dominance is the ability to "push-to-talk", giving co-workers the ability to communicate quickly and efficiently.
There are several important benefits of push-to-talk technology compared with other methods for team collaboration.
First, push-to-talk is instant and is designed for sending and receiving clear and concise communications. Particularly when communicating over wider areas (for example one side of a store or restaurant to another), "half-duplex" communication is proven to improve task efficiency and accuracy.
Furthermore, most two-way radio-type push-to-talk technologies sit outside of public and private cellular networks, which means they don't suffer any interference. Transmission and reception of messages occur over a separate frequency entirely, making the technology extremely reliable. This is particularly important in somewhere like a shopping centre which is densely populated with devices using data from both cellular and Wi-Fi networks.
POPULAR IN RETAIL AND HOSPITALITY. Push-to-talk communication allows teams to collaborate effectively, better serve customers, empower team members and reduce crime, theft and antisocial behaviour. Pictured: Hytera PD365LF.
It is important to understand how push-to-talk communication saves workers significant time compared with other team collaboration technologies, for several reasons:
Compared with a phone call, the time taken to dial a number, connect a call and wait for an answer is completely removed.
Compared with business messaging apps like Slack and Teams, messages are communicated quicker and easier and give team members more accountability to respond to messages accordingly.
The ability to communicate directly with colleagues who are out of ear shot (often the case in teams spread out across a shop, restaurant or leisure centre) saves time otherwise spend walking back-and-forth unnecessarily and removes noise such as shouting at each other which damages the customer experience.
Employing push-to-talk technology in retail outlets removes the need for loud and annoying tannoy announcements, something which impacts customers' experience in-store.
Introducing VoCoVo, the team communication headset
Two-way radios have dominated the retail, hospitality and leisure spaces for some time thanks to the push-to-talk-related benefits they deliver.
However, two-way radios in their traditional form aren't always ideal for users in these spaces.
Although entry-level two-way radios often have a more compact form factor, they often don't perform well even in small stores, leaving teams with communication black spots. And more advanced models which can cover every area are often too large and bulky to be carried easily.
Enter: VoCoVo, the innovative team communication headset solution.
VOCOVO IN ACTION. VoCoVo can be seen in action in both large Tier I retail stores as well as small, independent retail, hospitality and leisure outlets. Pictured: Wickes.
VoCoVo systems are used and trusted by retail, hospitality and leisure users everywhere – from Tesco and B&Q to your local fish & chip shop.
Their plug-and-play packages are perfect for teams who need to have crystal-clear conversations on-the-go without complex installation and come with all the hardware you need, making them great for teams who need to stay flexible and connected over wider areas.
VoCoVo is a solution which can be built around a team and scaled alongside its growth. Its features are so smart that the system can connect team members and customers in a way they never thought possible, yet so simple that you simply forget it is there. And as a modular solution, teams can wear it how they want so that they can focus on what is really important – the customer.
Why VoCoVo?
Implementing a VoCoVo system can help businesses to improve efficiency, save money, better serve customers, and help staff feel more connected.
Whether the requirement is for a small number of users with one team conference channel, or an entire store with added call points and handsets, VoCoVo solutions connect and empower teams to deliver the very best customer experience.
During primary research conducted through proof of concepts with Tier I partners, VoCoVo discovered that their solutions produced several vital key performance indicators for retail, hospitality and leisure stakeholders:
198% increase in how quickly colleagues can help with customer enquiries.
87% of team members feel they are better equipped for serving customers.
70% decrease in store theft and instances of antisocial behaviour.
400% increase in how satisfied customers were with queuing times.
52% increase in how safe team members feel when they are at work.
100% total reduction in tannoy usage within stores.
There is also qualitative evidence from VoCoVo users everywhere, from Tier I giants to local shops, that they have made significant gains in customer service and staff satisfaction since investing in the solution.
"Each checkout now has a VoCoVo KeyPad installed which links up to the colleague headsets, allowing for two-way communication between checkout colleagues and service hosts, thus being able to assist customers in-store quickly and efficiently."
Steve Edwards | Senior Manager, Central Retails Operations, ASDA
Click here to read the ASDA case study.
"A noisy kitchen environment and noisy front of house meant that chefs and customer service had to shout to each other over equipment to communicate. The VoCoVo system is simple, easy to use and works brilliantly. It has totally stopped all the shouting, it's fantastic!"
Mike Shaw | Owner, Shaw's Fish and Chips
Click here to read the Shaw's case study.
Want to learn more?
Via our network of approved VoCoVo "GOLD" reseller partners, we have helped many businesses to better connect their teams for a smoother, safer and more efficient operation.
To learn more, speak to our VoCoVo Brand Manager Kane Brewer today on 01489 287 287 or via kane.brewer@syndico.net.
To find out more about the VoCoVo product range, please click here.